Laboratory equipment
LOIP instruments production involves three complementary trends: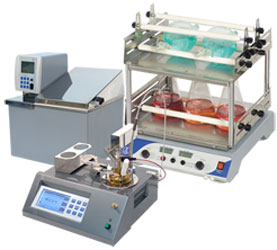 Instruments for oil products quality inspection
Thermostatic equipment (water baths, liquid thermostats and thermostatic coolers)
General laboratory equipment (worming plates, heating mantles, supports and raising tables, peristaltic pumps)
More than 50 highly knowledgeable specialists are working in producing of LOIP instruments, they work at the advance factory
facilities. The engineers of the development laboratory, which heart was formed in 1999, have a large experience of the modern laboratory equipment development today.
The production passes careful outgoing inspection. Besides this, in 2006 stagewise and interoperational parts and units quality control was embedded. All that allowed us to decrease a defect level during warranty and postwarranty periods in several times.
Full maintenance operation of LOIP instruments is carried out not only at the parent enterprise in Saint-Petersburg, but also at the maintenance departments of LOIP company regional representative offices.